The Carpenters Arms - Stratton, Swindon. Pub serving food and drink with onsite accommodation.
Win fantastic prizes… our Christmas Raffle is here.
Tickets for our very special Christmas raffle are now available from the bar (cash only please).  For just £2 a ticket, you'll be in the running to win:
1st Prize: Meat hamper from Lambourn Catering Butchers PLUS a Fruit & Veg Box from Heritage Fine Foods. With a RRP over £250.00, this is everything you need for Christmas & Boxing Day!
2nd Prize: Arkells Beer Hamper
3rd Prize: £30.00 of vouchers for The Carpenters Arms
The raffle will be drawn on Friday 15th December. Prize collection is on 22nd December… just ready for Christmas!
Celebrate New Year at The Carpenters Arms!
Fun, good company and the warm, welcoming atmosphere of a traditional British pub. What better way to see in the New Year?
We'd love to see you at The Carpenters Arms on December 31st!
Christmas Menus now available.
Check out our delicious starters & mains menu, and of course our sides & desserts.
We're dog friendly!
Don't forget that The Carpenters Arms has dog-friendly areas inside the pub and a full Mutt Munchies Menu.
10% Discount for NHS Blue Light Cardholders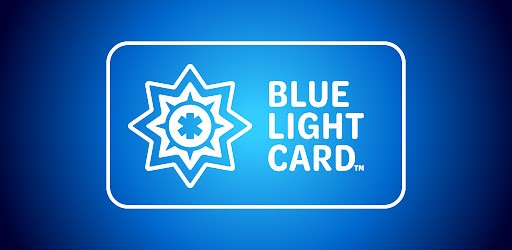 Do you have an NHS Blue Light Card? We are proud to offer cardholders 10% off food and £10.00 off accommodation per night.
Upcoming Events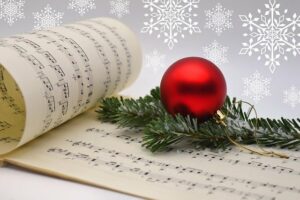 Fri, 15th Dec from 7:00 pm
Christmas Carols at The Carpenters
With South Marston Church Choir. No booking required.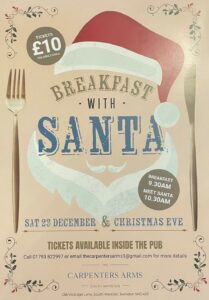 Sat, 23rd Dec from 9:30 am
Breakfast with Santa - SORRY, SOLD OUT!
Breakfast 9:30am, meet Santa 10:30am. Tickets £10 per adult/child, available from the pub.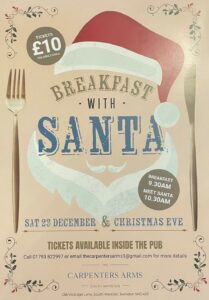 Sun, 24th Dec from 9:30 am
Breakfast with Santa -SORRY, SOLD OUT!
Breakfast 9:30am, meet Santa 10:30am. Tickets £10 per adult/child, available from the pub.
Takeaway Meals
Food & Drink
Food Served Daily
Food available all week
Warm and cheery setting
Dog-friendly
Waitress service
Ideal for walkers
Booking not necessary (but we do recommend it on busy days such as weekend evenings or Sunday lunch).
Accommodation
Tired of bland corporate chains? We offer the comforts of modern accommodation attached to a real English pub.
Book a Room
We have a range of single, double, family and twin rooms available. With easy access to Swindon town centre, local industrial parks and the Cotswolds.
We are also available for functions
The Carpenters Arms can cater for parties, weddings or funerals. With ample room for large numbers we provide food, drink and a friendly welcome.
Our Location
Directions
Find us in South Marston, just outside Swindon. From Swindon or the M4, take the main A420 Swindon towards. We're on the left approximately a mile past the Sainsbury's roundabout if you're coming from Swindon or the M4.
Welcome to a real English country pub
At the Carpenter's Arms, we have a warm welcome and a roaring fire, great local beers and belly-filling food. In fact, everything you could want from a traditional English country pub.
With beautiful walks nearby and a dog-friendly bar, we're ideal for walkers and anyone visiting this iconic landscape (we even have parking for caravans).
Business travellers are a few minutes away from Swindon's industries, including Honda UK, and the M4.

A Warm welcome guaranteed
If you're looking for the ideal country pub for good food, a friendly atmosphere and the perfect place to stay overnight, then the Carpenters Arms fits the bill in every way.
Find us in South Marston just outside Swindon and just off the A420.
Clare Shoesmith and the team look forward to seeing you!