History
The Carpenters Arms has been part of South Marston since the early 19th Century. The name is shared by many other pubs up and down the country, and is part of a tradition of naming drinking establishments after working trades.
In 1840, the Great Western Railway company constructed a line that still overlooks the pub today, and The Carpenters Arms has been a welcome landmark for generations of weary train travellers returning home from London.
In 1881, the pub was taken over by Arkell's Brewery, and has remained with them ever since. Arkell's is Swindon's oldest established company. Founder John Arkell had emigrated to Canada, but returned to marry in nearby Church St Margaret – to the everlasting thanks of Wiltshire's beer drinkers. The Carpenters Arms was one of a number of pubs that Arkell's acquired in a period of rapid expansion.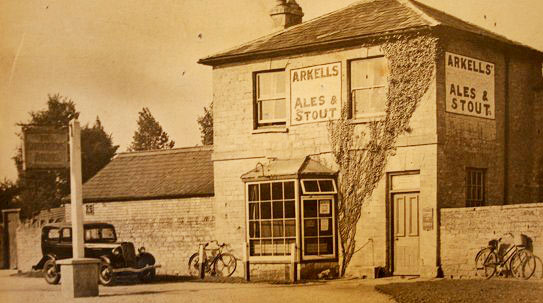 The Carpenters Arms was a familiar sight for South Marston's most celebrated son, Alfred Williams (1877 – 1930). The 'Hammerman Poet' produced a body of prose and poetry about the area. His most famous work, Life in a Railway Factory (1915) evokes working class life at the start of the twentieth century. The 'Williams Willow', where Alfred composed verses in his head, is a few yards from the pub.
In the 1990s, the Carpenters Arms underwent major refurbishment and extension, turning a small pub into a still comfortable but much roomier building.
Today, our comfortable rooms, home-cooked food, and convenient location make our pub popular with a broad range of customers: from locals to business visitors, walkers to families, we really do have something for everyone.